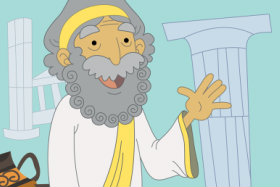 MoneyIsland
A fun way to learn about finances.
MoneyIsland is a fun-filled online world where kids learn to become "financial gurus." Parents and teachers gain peace of mind by providing their kids with the tools they need to live a financially healthy life. All for free!
Kids can even earn real-life rewards as they go on fantastic quests to places like Atlantis and the Eiffel Tower. Play at home or an entire classroom can embark on the quest together. On the surface they're having fun. More importantly, they are learning valuable financial skills that will last a lifetime.
Summary

When kids play MoneyIsland, they enter a virtual world that not only makes learning fun, but also tracks and encourages their progress. As they go on quests to fantastic destinations like the Eiffel Tower and Atlantis, they learn real-life principles of financial responsibility.

Geared for kids ages 8 to 14

Free, multi-level online game

Teaches valuable financial skills

Real-life rewards built into game

Parents and teachers can track progress and assist in learning

Additional lesson plans/activities provided to adults

Physical passport and stickers enhance experience

Can be used in classroom setting

Lessons aligned with national standards of Jump$tart Coalition for Financial Literacy

Learn more about MoneyIsland