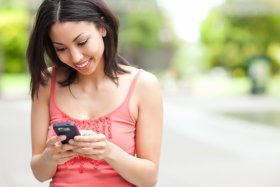 REMOTE DEPOSIT ANYWHERE ™
Depositing checks is easier than ever.
Depositing checks is easier than ever.
Minimize trips to the branch, maximize convenience — Remote Deposit Anywhere™ lets you deposit checks from wherever you are, 24/7. This service works with our mobile banking app. Download the app today, and access Remote Deposit Anywhere™ to start making deposits at your convenience.
Summary

This service works with our mobile banking app

Deposit checks from anywhere, 24/7

Save time with fewer trips to the branch

Intuitive and easy-to-use

Fast and secure




There are no monthly or recurring costs to use Remote Deposit Anywhere™. However, you are limited to 20 deposits per month.

Your wireless carrier may assess you fees for data or text messaging services. Please consult your wireless plan or provider for details.

Remote Deposit Anywhere™ is only available on Apple® and DROID devices.

Getting Started

1) Ensure you've downloaded our mobile banking app

2) Once the app has launched, access Remote Deposit Anywhere™ by clicking the Deposit icon.

3) Sign and endorse the back of the check you wish to deposit

4) Take a one-time photo of both sides of the check

5) Submit it for deposit using the app

You're done! It's really that easy!

FAQs

What is RDA?

RDA is our free check capture solution that allows you to make mobile deposits of your check items. With this solution, you can simply select the account for which you would like deposit to, and then enter the amount of the check. Once this has completed, you're now ready to take a picture of the check (front and back) using your mobile device. The images, along with the deposit information, will be submitted to the bank for processing. You will be notified via email alerts if the deposit has been accepted for processing.




What do I need in order to use RDA?

To use the RDA service, you must have the following:

An open checking, savings, or money market account at Evergreen Bank Group.
An active NetTeller Online Banking account.
The most recent version of our EBG Mobile app for the iPhone® or Android™.




What is the cost for using RDA?

RDA services are free for our consumer customers.




How do I take images with my mobile device?

The image software is built within the EBG Mobile application. When prompted for an image in RDA, you simply center the check within the designated rectangle and press the Camera (capture) button. If the image is blurry or distorted on first attempt, simply retake the picture until legible for processing.




Are these images retained on my mobile device?

The check images will not be retained by the mobile device or the cellular service at any time. These images will be securely delivered electronically to the bank for processing.




What types of checks are allowed to be captured for RDA?

We accept any kind of check, except foreign checks and money orders.




Do I have to endorse (sign) the check to be deposited?

Yes, all checks deposited via RDA must be properly endorsed.




Do I need to send an image of a deposit ticket along with my check through RDA?

No, we will create an electronic deposit ticket for you. You will only need to take a picture of the front and back of the check being deposited.




Are there cutoff times for depositing checks via RDA?

Yes, the daily cutoff for next day availability on RDA deposits is 5:00 PM CST. All checks deposited after this time will not be processed until the next business day. Please note that we determine the daily cutoff based off the "approval" or "successful" timestamp within our software as opposed to the time you submit the deposit from your mobile device. This gap in time allows for our operations to review the accuracy of your deposit in the vent of keying errors or fraud detection. This means that some deposited items may not receive next day availability the closer to 5:00 PM CST we receive your deposit.




All checks deposited during weekend hours will not process until Monday with Tuesday availability.




Note: Federal Holidays that fall on Mondays will push the processing date back one business day for all weekend RDA deposits. Some checks are subject to hold. Please refer to our Funds Availability disclosure provided to you at account opening.




Are there dollar limits for depositing checks via RDA? Item Limits?

There are daily as well as monthly dollar and count limits for RDA. These limits can be found below:

Daily Limits:

Amount: $2,500.00
Count: 20

Monthly Limits:

Amount: $5,000.00
Count: 20




What should I do with the checks after depositing via RDA?

We recommend that you destroy the original checks immediately after the deposits have been posted to your account. If held for a period of time, please mark the checks as having been deposited and store them in a secure location until destroyed.




Can I void a check after it's been scanned and sent for deposit?

Good news! You have up until 4:00 PM CST, the same day the deposit was captured on your phone, to notify the bank of sent checks that should be voided. Please contact us at (888) 505-2265 or ebanking@evergreenbankgroup.com to initiate this check void. Note: This only applies to items that have not yet posted to your account.




What happens if I accidentally scan a check twice to be deposited?

If a check is scanned to be deposited with RDA and then is presented again for deposit at a future time, the check will be flagged for duplicate detection. Because of this, the duplicate check item will be rejected and you will be notified.