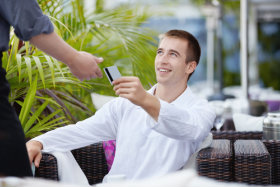 Card Guard
Powered by smsGuardian, is additional security for your debit card.*
Stop fraud in its tracks — add an extra layer of security to your debit card transactions with Card Guard, powered by smsGuardian. This service is available to all of our debit card customers. Simply enroll online and receive a text message alert any time there is suspicious debit card activity.
Summary

Additional fraud protection for your debit card.

Receive a text message alert for the following debit card transactions:*

Transactions greater than $200
Out of state transactions
Transactions for fuel
Card not present (online transactions)
International transactions

Simply ignore text alert if transaction is legitimate.

Reply with the code you receive via text if transaction is fraudulent, and your debit card will be blocked from further use.





If you would like more information on Card Guard, contact us or call 888-505-BANK.




For smsGuardian terms and conditions, please click here.

You may discontinue the receipt of Alerts immediately by texting the word STOP in reply to a Guardian Alert. You may unsubscribe from this service entirely online, by clicking here. Enrollment lasts for one year, at the end of one year you will receive a text to re-enroll. You may also discontinue alerts by texting the word STOP to 27576.

Evergreen Bank Group determines the frequency of messages with the following transactions generating text message alerts. A) transactions greater than $200 B) out of state transactions C) fuel transactions D) card not present transactions E) International transactions. Text alerts will be sent to your cell phone (or other SMS text messaging device) for your enrolled Evergreen Bank Group debit card. The number of alerts you receive will be based on your card usage. Cardholders will not receive more than one message per transaction on each enrolled card.

Cardholders that have mobile service provider Sprint, Nextel, Boost, or Virgin will receive an alert message every 30 days with the following message reminder, "Reminder: You have subscribed to Guardian transaction alerts for Evergreen Bank Group. Message and data rates may apply. Reply HELP for help. Reply STOP to cancel. For more information, click on "Service Usage Guide" on the Guardian Website or call (888) 868-8611.