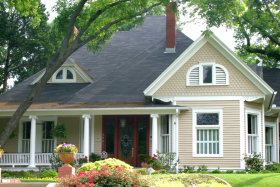 Home Equity Lines of Credit
Put the power of your home's equity to work.
Put the power of your home's equity to work.
Using your home's equity you can set a convenient Line of Credit to provide funds to help you meet on-going and unexpected expenses. You have the flexibility of drawing the amount you need when you need it without having to reapply each time. Interest may even be tax deductible. Consult your tax advisor.
Summary

A home equity line of credit is a form of revolving credit in which your home serves as collateral.




Because the home is likely to be a consumer's largest asset, many homeowners use their credit lines only for major items such as education, home improvements, or medical bills and not for day-to-day expenses.




If you would prefer to apply via paper application, click HERE.

Interest Rates

Combined Loan to Value: up to 80% Maximum Loan Amount $150,000




Amount……………………...........700+ Credit Score

$75,000 to $150,000……….........Prime floating (4.25%* APR-floor)

Up to $75,000…………………….Prime + .50% (4.25%* APR-floor)




Fees:

$50 annual fee (waived with Evergreen Bank Group personal checking)

$295 processing fee




Prime: 3.25%

Terms

IL Property Only, Primary Residence, Owner Occupied, Single Family Residence or Condo (no multi-unit or co-op properties)
Max Debt to Income Ratio is 45%
Maximum CLTV 80% (75% when first mortgage and proposed home equity exceed $750,000)
Rate floor on all floating rate line of credit programs 4.25%
Processing fee $295/file
HELOC payments are due on the 20th of each month (statements are generated on the last day of each month)
Minimum advance amount per draw is $500
Property insurance is required
Credit subject to approval
Balloon payment
Rates, terms, and conditions are subject to change at any time

Minimum payment example: If you make only the minimum payment and took no other credit advances, it would take 10 years to pay off a credit advance of $10,000 at an Annual Percentage Rate of 4.25%. During that period, you would make 119 interest only payments ranging from $32.60 to $36.10 and one final balloon payment of principal plus interest of $10,036.10. *This APR reflects a 4.25% floor. Variable Rate Feature: The Plan has a variable rate feature. The Annual Percentage Rate and the minimum payment amount can change as a result. The Annual Percentage Rate* does not include costs other than interest. The Index: The Annual Percentage Rate is based on the value of an Index (referred to in this disclosure as the "Index"). The Index is the Prime Rate as published in the "Money Rate" section of the Wall Street Journal. Information about the Index is available or published in the Wall Street Journal. We will use the most recent Index value available to us as of the first day of each month any annual percentage rate adjustment. If the Index is no longer available, we will choose a new Index and margin. The new Index will have an historical movement substantially similar to the original Index, and the new Index and margin will result in an annual percentage rate that is substantially similar to the rate in effect at the time the original Index becomes unavailable. Maximum Rate and Payment Example: If you had an outstanding balance of $10,000, the minimum interest payment at the maximum Annual Percentage Rate of 19.90% would be $169.01. This Annual Percentage Rate could be reached immediately or prior to the first payment. Early Termination fee of $350 is charged if the account is closed within 24 months of the origination date; $50 annual fee (waived if you have an Evergreen Bank Group personal checking account) Processing fee $295 charged at account inception. Offer applies to owner occupied single family residences in Illinois and is subject to underwriting standards. Property insurance is required; flood insurance may be required. Rates are dependent on your loan amount, product and qualifications. Closing costs paid by Evergreen Bank Group are limited to title, appraisal, credit report and flood determination and recording fees. Consult your tax advisor regarding the tax-deductibility of interest. This offer cannot be combined with any other offer and can be withdrawn at any time without notice. Subject to credit approval that includes verification of application information and receipt of collateral documents. This offer does not apply to purchase money transactions.