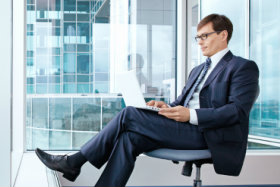 Repurchase Agreement Sweep
Make the most of your money.
Make the most of your money.
A repurchase agreement or "repo" is an overnight investment which puts excess balances to use through the purchase of an undivided interest in a U.S. Government security owned by the The Banker's Bank.
The repo agreement is set up in conjunction with an Evergreen Bank Group commercial checking account. The repo agreement allows you to earn interest on your excess balances, while maintaining full access to your funds.
Summary

Offers an alternative to the Fidelity mutual fund sweep account for more risk adverse companies

Allows commercial accounts to earn interest on funds while maintaining full availability

There are no transaction limits, as the repo sweep account is tied to your business' main operating account

The process occurs automatically, and the target balance can be changed at any time

How It Works

When a customer opens a commercial checking account, a maximum target balance is set. When this target balance is exceeded, the excess funds are automatically transferred into an interest bearing account held at The Banker's Bank.

Interest is accrued daily and paid to the account monthly. Although the investment does contain risk, it also offers the potential for higher yields and earnings and is backed by the US Government. Evergreen Bank Group's automated system keeps track of account balances and reduces the time a staff member would need to continuously monitor the investment.

Because funds are transferred when account balances exceed a predetermined target balance, it saves time for the bank and the customer and improves accuracy. Plus, your funds are always accessible. If your company has a transaction that pulls your balance below the target level, funds are automatically swept back into the account to maintain the target balance.

Terms

All accounts subject to credit approval. Other terms and conditions may apply. For more information, please contact an Executive Banker at your local branch.