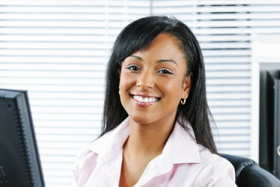 Remote Deposit Capture
Make deposits without having to run to the bank.
Make deposits without having to run to the bank.
Remote Deposit Capture (RDC) takes advantage of image-based technology allowing customers to electronically clear and settle deposits without leaving the office.
Summary

Customers can utilize this system to capture images of checks that would otherwise be deposited at Evergreen Bank Group either in person, through the mail, at an ATM, or via Deposit Pick-up.

This is the first step in moving to straight-through check image processing in which physical checks are no longer transported between banks, but instead, electronic check images are exchanged.

How it Works

Remote deposit consists of software and a check capture device that sits on your desktop and connects to your PC. Checks are run through the device, capturing an electronic image of the front and back of each check in the deposit.

When all check images are captured, an electronic deposit is created utilizing the RDC software. Upon completion of deposit preparation, a file consisting of the check images is sent to the bank via a secure website. Once the bank receives the deposit file, we will process the deposit through the check clearing network for final settlement.

Benefits

Deposit pick-up is eliminated

The need for multiple bank relationships is reduced or quite possibly eliminated

Special trips to the bank to make deposits are no longer necessary

Research/inquiry capabilities are expanded as you'll have an image of every check deposited available online

Terms

All accounts subject to credit approval. Other terms and conditions may apply. For more information, please contact an Executive Banker at your local branch.